Sign Up
Sign up for Viridis Energy newsletter.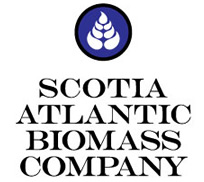 Viridis Energy's second facility is located in the heart of central Nova Scotia. The plant resides on a 157-acre property, inhabiting 20 operating buildings with an additional 22-acre wood lot. With the help of five pellet presses, the plant has a 120,000 metric ton production capacity annually. As one of the largest plants in Eastern Canada, Scotia Atlantic is ideally located to service the growing demand for industrial pellets in Europe. Scotia Atlantic has allowed Viridis Energy to extensively expand its capacity.
One of Scotia Atlantic's main worldwide agents Ekman & Co AB., assists in arranging short-term and multi-year take offtake agreements for its industrial wood pellet production, with European generators that co-fire with wood pellets or have fully converted to biomass. Over the past few years, Ekman and Viridis Energy have developed a strong alliance, and will continue to flourish together in the upcoming 36 months.
For more information on Scotia Atlantic Biomass, please contact:
Julie Millington, General Manager, Scotia Atlantic Biomass:
[email protected]
Renata Bellentani, Sales & Logisitics Account Manager, Viridis Energy:
[email protected]